---
Medical-surgical disposable face mask
For medical staff daily use, not for the one who need to work with the COVID19 patient or potential patient.
---
---
BFE: ≥ 99%
PFE: ≥ 99%
Bacterial filtration efficiency ≥99%. Particular filtration efficiency ≥99%, and differential pressure ≤29.4pa/m3
---
---
Meet Europe, American and Global standard
Our Masks can meet Europe, American, Australia, Japen, Korea, etc. countries and Global standards.
---
| Item | Medical Surgical Disposable Face Mask |
| --- | --- |
| Style | Elastic Ear-Loop or Tie |
| Materials | Non-woven solf fabric + High density meltblown fabric |
| Package | 10pcs/bag, 50pcs/box, 40boxes/ctn |
| Application | Hospital and related situation. |
| More details | Feel free to contact us. |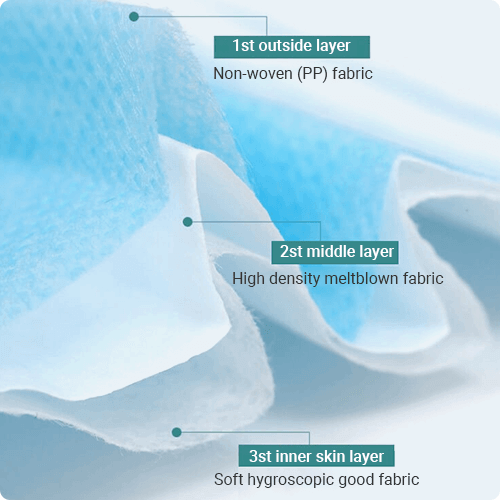 Structure
High quality PP non-woven fabric, middle is metlblown fabric.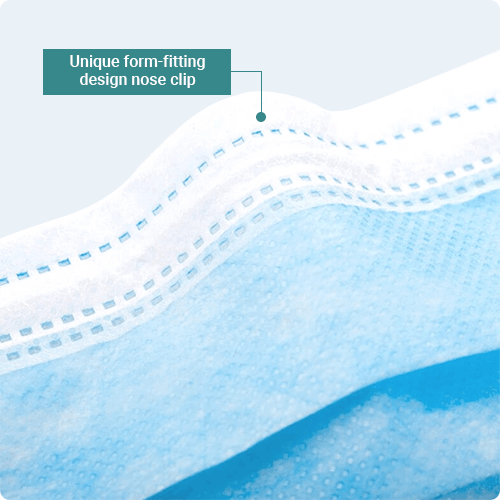 Nose clip
Unique form-fitting design nose clip, adjustable.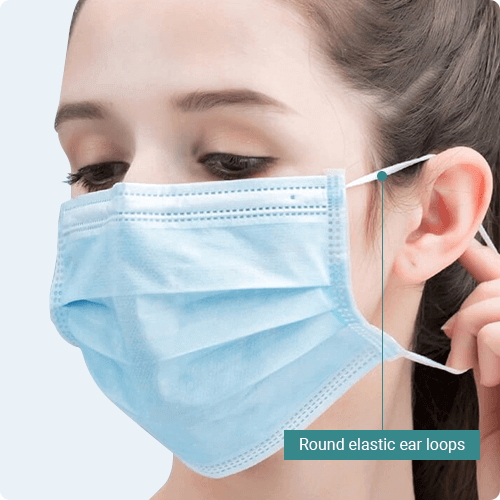 Ear-loop or Tie
Elastic ear-loop or Tie on, very comfortable and convenient to wear.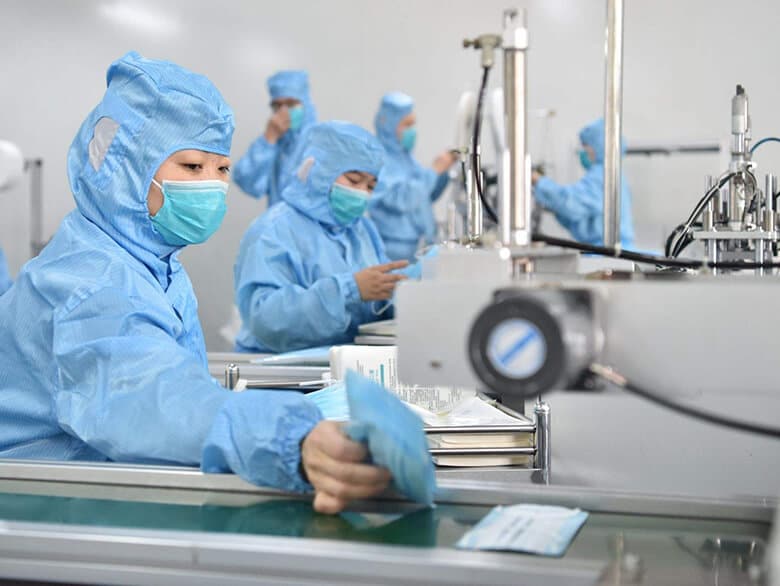 Qualified
face mask
---
We only produce masks that meet global standards and national standards.
If you want to import qualified masks and learn more about how to distinguish the quality of masks, please feel free to contact us.
---
Production capacity
---
70% of the masks currently produced are supplied to the government, and about 30% of the masks remain daily.
Due to the rising prices and urgency of raw materials, the price of masks will remain high in the near future.
---
HEAR WHAT OUR CLIENTS HAVE TO SAY
Ds products are very affordable and of very good quality. Our company has purchased masks many times from Ds, and the cooperation has been very pleasant. If you are looking for a reliable mask supplier, DS is one of my sincere recommendations.

Dshealthy is an excellent supplier of Chinese masks. Their products are not only of good quality, but also comfortable to wear, which is very popular among our customers.
1
Do you have disposable face mask IN-STOCK?
We produce hundreds of thousands of stock masks every day.
But now the masks are in great demand. If you need to import, please contact us in time to get the latest price and delivery time.
2
Do this disposable face mask for hospital medical staff?
Yes, but not for against COVID19!
This mask is used for medical staff daily protection. Frontline medical staff need higher level masks, such as FFP2, N95 standard.
3
Can I import this mask to my country?
Yes
We have different mask certifications.
But before this special thing, before you import, you better understand the relevant customs regulations of your country, such as certificate and packaging requirements.
4
Why masks are so expensive now?
There are several reasons:
First of all, it is currently in short supply. The current demand for masks in China is very huge, let alone global.
The prices of raw materials such as non-woven fabrics and meltblown fabrics have skyrocketed, and many domestic factories have not yet fully resumed work.
Therefore, in the near future, the price of masks will continue to be relatively high. It is difficult to return to the previous price in the short term.
What's more important is that in the Chinese market, the ex-factory prices of disposable masks are about 0.4 to 0.5 US dollars.
5
What about the Payment term?
Because the price of masks on the market is changing rapidly, it is affected by raw materials and policies.
So the general order is paid in full, T/T100%. But if the amount is too large, we also accept 30% advance payment and pay the remaining 70% before delivery
We still recommend that you place orders in batches, such as 100,000 masks a day, the lowest risk, and the fastest customs clearance.
FAQs
---
Check out this FAQs you might concern, feel free to contact us if meet any question..
---
Need Emergency Quote or Help? Call Us!
+86 (0) 159-1947-0749
---
Wanna buy a large quantities masks for protection against CORONA Virus? Feel free to contact us for more details, we're ready to help!
---
or write us:
info@dshealthy.com